Joey Logano shows Penske dominance and gets the win in Kansas!
Kevin Harvick finally has things go his way and gets the win in Charlotte.
Penske dominance, well wow are they on their game this year.  Brad Keselowski gets the win in Talladega.
Brad needed the win to move on to the next round of the Chase.
Out of the next round of the Chase are Jimmie Johnson, Dale Earnhardt Jr., Kasey Kahne and Kyle Busch.
I will say restrictor plate races should not be part of the Chase but they are promoting winning is everything and it worked for Brad that much is for sure.
Round 2 of the Chase is over, and we are down to 8 drivers in the Chase.  We narrow that down to the final 4 after the next 3 races.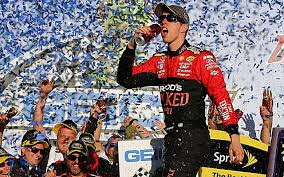 Sorry for missing the last 2 race updates, will be on top of things for the rest of the season.
In the pool we Cherry Bomb take the lead followed by  5 Star, Best of the Best, Glasses, mama-mia and Flip Flop.
Rounding out the top 10 we have Big Buzz, Nana's Pick, Pete Marshall, Drive for Five and Papa's Little Man.
Most points for the week goes to Cherry Bomb with 5199.
Biggest gain for the week goes to Team Sam up 41 spots.
Biggest slide for the week goes to Kristen Armstrong down 27 spots.
Off to Martinsville this Sunday, short track tempers!  Look for Team Penske to be a factor again.