Yep Kevin Harvick and the 4 car are pretty much the class of the field every week it seems.  They didn't win Sunday but again had an amazing car that could have easily won.  Bad Brad and the 2 team made the right pit call for 4 tires and it paid off for the green white checker finish.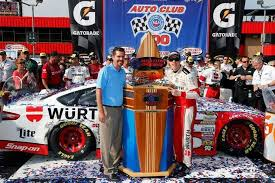 In the pool we have Fergie One, Chick Hicks,  Papa's Ten Man, Three Amigos, smokinjoe00.
Rounding out the top 10 we have Ethan Cameron, Freaky Fast, Warning Watts, Team Midnite #1, and Flip Flop.
Most points for the week goes to Papa's Ten Man with 292
Biggest gain for the week goes to Troy Cameron up 30 spots.
Biggest slide for the week goes to Slant down 32 spots.