Kyle Busch is your 2015 Nextel Cup Champion!!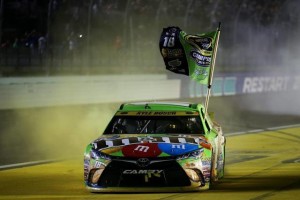 Kyle Busch had a year no one would have ever guessed after his Daytona crash. Kyle won the race at Homestead and needed to win Homestead to win the Championship with Kevin Harvick right there had he made a mistake. It wasn't the best race ever but it had its' moments for the first half of the race.  Jeff Gordon ends his career finishing 3rd overall, just didn't have what it took to win it in his final year.
In the pool we have your winner I Can't Drive 55.  Congratulations Mike Zimmerman, you had the best team for 2015.
Rounding out the top 5 we have Ringer, Mac Attack, FERGIE ONE, and Rust-eze.
Rounding out the top 10 we have Team Midnite #1, Mur-Mac, Mur, Cherry Bomb, ROCKIN ROCKETS,  and Brad Monahan.
Most Points for the week goes to Kandy with 315.
Biggest gain for the week goes Fireball, FordRacking19 both up 5 spots.
Biggest slide for the week goes to JoJo24 down 9 spots.
Thanks again for all those that entered, was an exciting season for sure. Wish I wasn't so tardy on the updates over the season, wasn't how I wanted to run the pool.