Well looks like we are continuing with drivers who had success last year are having success again this year. Joey Logano wins the Daytona 500 and ran strong in Atlanta. Kevin Harvick finishes second in Daytona and Atlanta. Jimmie Johnson must like the new rules package as he gets the win in Atlanta and had a good finish in the 500 opener in Daytona.
I think the new rules package will make for better racing although the usual suspects seem to be up front again.  So it remains to be seen if we can get cars with less funding more competitive.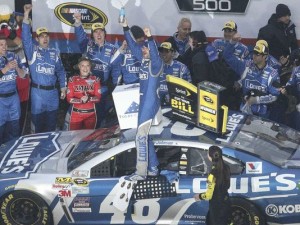 In the pool we have Ethan Cameron, Fergie ONE, Freaky Fast, Flip Flop and Papa Bill.
Rounding out the top 10 we have Bumpter-Bumper, Fergie Three CDF, Darlene Watts, Team Midnite #1 and Papa's 49er.
Most points for the week goes to Darlene Watts with 308 .
Biggest gain for the week goes to Mur-Mac up 11 spots.
Biggest slide for the week goes to Halo Amigo.