Kyle Busch back to the winner's circle.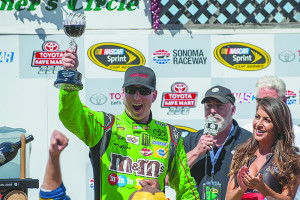 Well awesome finish to the race on Sunday. Fresh tires should sure did make a big difference for the final 7 laps of the race.  It was finally nice to see the cars being able to competitively race each other without the aero push. I know most people hate the road course races but I think there should be a road course in the chase. Road courses provide lots of action, lots of different strategies, lots of opportunities for different teams to win.
Obviously Nascar recognizes the current rules package is not ideal, not much side by side racing on the 1.5-2.0 mile tracks with the current configuration. The rules package change at Kentucky hopefully helps some of this aero push that happens when cars try to pass each other. I think the new rules package will continue to help drivers that like a loose race car like Kyle/Kurt Busch, Jimmie Johnson, Kevin Harvick.  If you like a tight race car you are probably not going to like it so much, but we will see how it all turns out.
In the pool we have Fergie One, Lethbridge Racing, Bumper-Bumper, Chick Hicks, and Three Amigos.
Rounding out the top 10 we have Momia-Mia, Suezie 13, Flip Flop, Team Midnite #1, and Go-Attack-Go.
Most points for the week goes to Head of the Pack with 356.
Biggest gain for the week goes to Kim-WAY up 16 spots.
Biggest slide for the week goes to Cheech down 15 spots.