Bad Brad back in the winner's circle, 3rd win of the season. 
Interesting Brad is still complaining about their engines not being as good as the Hendrick power plants.  According to Brad they are a full season behind.  So does that mean if his car had a Hendrick motor he might have won a lot more races?  Be happy Brad, they give you a great car most of the time, two dominating victories as of late so to speak of.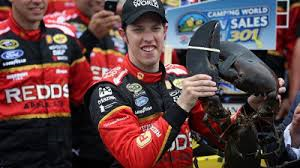 In the pool we have Rusty-Cup followed by  Slant, Glasses,  Scott Morrow, and SmokinJoe00.
Rounding out the top 10 we have Team Cool, Best of the Best, Irv-1, Broken Dreams,  and Legion-of-Doom #1.
Most points for the week goes to Go leafs go with 319.
Biggest gain for the week goes to SDAN up 15 spots.
Biggest slide for the week goes to The Handi-cappers down 20 spots.
A weekend off this week, no race this Sunday.
Get your trades in, they are due Sunday July 27, 2014 by 12:00pm noon or just before the Brickyard 400 in Indy.