Kevin Harvick wins back to back races, wins at Homestead and wins the Championship for 2014.  Congratulations Kevin.
Was a good race other than all the annoying cautions.  Just when the racing was good there was a wreck with cars 2+ laps down or debris from the cars that were already wrecked and just out there riding around.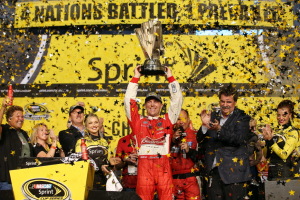 In the pool we have 5 Star with the win, congratulations 5-star!
We then have Cool Heat, Best of the Best, Hot Chili Head and mama-mia.
Rounding out the top 10 we have Smokinjoe00, Broken Dreams, Flip Flop, Fishin in the Dark and Nana's Pick.
Most points for the week goes to Team Cool with 322.
Biggest gain for the week goes to Papa's We Gal up 3 spots.
Biggest slide for the week goes to Go leafs go down 3 spots.
That wraps up another season of Nascar.  New rule package for 2015 should be interesting, hope Nascar knows what they are doing with the spacers and drop in horsepower for next year.
Have a great offseason and congratulations to all of the winners.
Payouts for 2014 are as follows;
| | | |
| --- | --- | --- |
| 1 | $250.00 | 5 Star |
| 2 | $150.00 | Cool Heat |
| 3 | $125.00 | Best of the Best |
| 4 | $115.00 | Hot Chili Heat |
| 5 | $100.00 | mama-mia |
| 6 | $80.00 | Smokinjoe00 |
| 7 | $70.00 | Broken Dreams |
| 8 | $60.00 | Flip Flop |
| 9 | $55.00 | Fishin in the Dark |
| 10 | $50.00 | Nana's Pick |
| 11 | $40.00 | Pete Marshall |
| 12 | $30.00 | mac |
| 13 | $25.00 | Papa's Little Man |
| 14 | $20.00 | Drive for Five |
| 15 | $10.00 | Fergie One |
| 16 | Free Entry | Allan Mcdougald |
| 17 | Free Entry | Sue Byers |
| 18 | Free Entry | KC's Dad-Help Me |
| 19 | Free Entry | Legion-of-Doom #2 |
| 20 | Free Entry | Forget-Me-Not |
| Last | Free Entry | Jesse James |