Well there you have it, Martin Truex Jr. wins the race in Homestead and wins the Championship for 2017.  Congratulations Martin, with 8 wins for the season you and your team deserve it.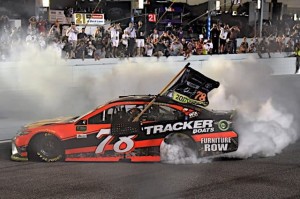 Kyle Busch had probably the best car but their pit strategy never worked out for the final caution and they had to settle for a close second.
Congratulations to Mac Attack, pulled into first from second to win the Pool for 2017!!!
Followed by close finishes in 2nd to 5th for Kandy, Dick Cunningham, Whiskey Matters, and Dutch.
Rounding out the top 10 we have Spare Parts,Whiskey Racing, Getting Bent, OnlyUse2Ply, and Rev-Elution.
11th to 20th are as follows:
SLED DEN, Coolheat, Amigo Haters, Freaky Fast, Dog Days, Flip Flop, Glen Corbett, Big Buzz, Ringer, Papa's Wee Gal.
Last place for the season goes to Team Silas.
Most Points for the week goes to Rev-Elution with 1925.
Biggest gain for the week goes to Hyhoe with 229.
Payouts for 2017 are as follows
| | | |
| --- | --- | --- |
| | | NICKNAME |
| 1 | $215.00 | Mac Attack |
| 2 | $125.00 | Kandy |
| 3 | $100.00 | Dick Cunningham |
| 4 | $90.00 | Whiskey Matters |
| 5 | $80.00 | Dutch |
| 6 | $70.00 | Spare Parts |
| 7 | $65.00 | Whiskey Racing |
| 8 | $60.00 | Getting Bent |
| 9 | $55.00 | OnlyUse2Ply |
| 10 | $50.00 | Rev-Elution |
| 11 | $35.00 | SLED DEN |
| 12 | $30.00 | Coolheat |
| 13 | $25.00 | Amigo Haters |
| 14 | $20.00 | Freaky Fast |
| 15 | $10.00 | Dog Days |
| 16 | Free Entry | Flip Flop |
| 17 | Free Entry | Glen Corbett |
| 18 | Free Entry | Big Buzz |
| 19 | Free Entry | Ringer |
| 20 | Free Entry | Papa's Wee Gal |
| Last | Free Entry | Team Silas |